This French General is famous for the many, many wounds he suffered in battle but survived. You'll be amazed the damage this bullet-magnet lived through!
Nicolas Charles Oudinot was born in Paris, 1767. He was born to survive against the odds as just one of nine siblings to reach adulthood. He joined the Kingdom of France's army in 1784 as an ordinary soldier, then again in 1792 as a battalion commander in the revolutionary French First Republic. His gallant defence of the little fort of Bitsch in 1792 launched his career as one of France's most irrepressible military leaders throughout the French Revolution and Napoleonic Wars.
1793 – Gunshot Wound
Oudinot suffered his first and most severe wound in the Battle of Hagenau. Colonel Oudinot's division was ordered to assault an entrenched Austrian position that was apparently so strong the divisional commander, General Burcy, only followed orders to assault the position under threat of arrest. The subsequent attack failed and Burcy fell. The survivors fell back to some woodland, isolated and without orders. They were then assaulted themselves. Without a commander, Colonel Oudinot stepped up to the plate and led a spirited defence. In the process he took a musket ball to the head. Oudinot spent over a year convalescing and would suffer severe headaches for the rest of his days.
1794 – Broken Leg
During the War of Polish Succession, the French were attempting to capture the city of Trier from the Austrians. The Austrians made a brief stand outside the city gates before retreating within. Dashing in pursuit on horseback, it seems Brigadier Oudinot's horse was shot as he was crossing a bridge. It fell and Oudinot's leg was broken. Trier was soon captured and Oudinot was provided with the city's governorship so that his leg could heal. It would take a long time, however, and his headaches restarted with vigour. Oudinot was kept out of action for 12 months.
1795 – 5 Sabre Wounds + 1 Gunshot Wound
During the Action at Mannheim a French Army was outmuscled by a larger Hapsburgian army in fighting outside the city. Oudinot's brigade took the brunt of the Austrian onslaught but Oudinot acted with his customary brand of leadership from the front, personally trying to rally his troops. The price for this was five sabre wounds and a minor gunshot wound. It is unreported where on his body he was hurt but the wounds were bad enough for him to be left for dead on the battlefield. The Austrians, however, discovered him and took him prisoner for a few months.
1796 – 1 Gunshot Wound + 4 Sabre Wounds
Oudinot was thoroughly mauled in an action during the Rhine Campaign. His division was holding ground against the Austrians and his divisional commander was killed in the fighting, so Oudinet once again took control. His division held off the enemy long enough for other French units to avoid being cut off. Oudinot's tenacity was rewarded with a gunshot to his right thigh. His left arm was also lacerated three times plus a sabre blow was delivered to his neck. Oudinot survived again, though he was almost as familiar with the infirmary as he was with his infantry.
1799 – Gunshot Wound
By now, it was the War of the Second Coalition and divisional commander Oudinot was fighting around Switzerland and was commended for the aggressive manner he led his troops. In June, though, Hapsburg forces gained the front foot and French forces were pushed back on all sides. Oudinot, retreating with the last ranks of grenadiers, was severely wounded by a musket ball in the chest. He was becoming loath to spend more than the minimum time convalescing, being ever more relied upon as he was. By August, the General was back in action.
1799 – Gunshot Wound
Oudinot's fiery leadership had impressed his superiors enough for him to be promoted to Chief of Staff, yet he continued to lead his men personally into battle. In a successful assault against Austrian positions, the French suffered just 8 killed and 60 wounded, but one of those had to be General Oudinot who was shot again, this time in the shoulder blade as he led a cavalry charge. He returned to the frontline in September.
1805 – Gunshot Wound
Napoleon's glorious era had now begun and Oudinot continued to impress with his command of a grenadier division. At Hollabrunn he suffered another gunshot wound to the left thigh. Naturally, he had been at the front with his men as the Grande Armee attempted to stop a Russian army from escaping intact. He retired to Vienna to recover but rushed back to rejoin his grenadiers in time for the great Battle of Austerlitz, even though Napoleon had given temporary command of the grenadiers to another officer to afford Oudinot some time away from the firing line.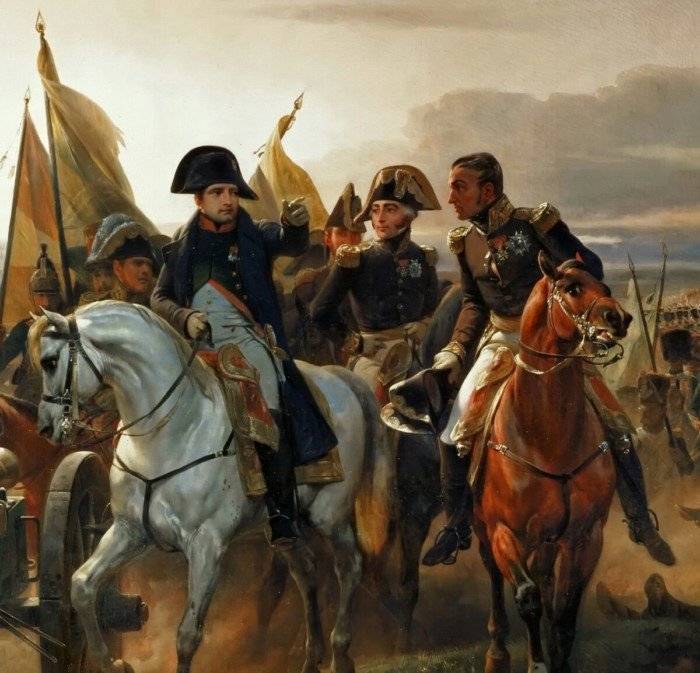 1809 – Gunshot Wound
During the The Battle of Aspern-Essling, Napoleon's army found itself with its back against the Danube River and cut off from a large number of troops because a bridge crossing had been destroyed. The French were subject to a murderous onrush of Austrian musketmen. Oudinot's elite grenadiers again took the brunt of the assault and could only hold off the enemy after incredibly hard fighting in which every officer of Oudinot's was either killed or wounded. Oudinot himself was shot in the arm and had to leave the battlefield. His superior, Marshal Lannes, was killed meaning Oudinot was promoted to corps commander in his stead.
1809 – Gunshot Wound
General Oudinot played a pivotal role in defeating the Hapsburg forces in the Battle of Wagram. Oudinot's corps was attacking the left flank of the Austrian army when he was grazed by a bullet, which ripped off part of his right ear. Oudinot's surgeon hastily sewed it up so that he could rejoin the battle. Oudinot's troops finally captured Wagram and, thus, delivered victory to his Emperor. To show his gratitude, Napoleon elevated him to the rank of Marshal.
1812 – Grapeshot Wound
By August of this year, Oudinot's career had plateaued, as had Napoleon's fortunes; The Marshal was showing his limitations for independent command, and Bonaparte had invaded Russia… Oudinot was tasked with grappling Field-Marshal Wittgenstein's Russian army but eventually fell back to defend Polotsk against an attack from him instead. Whilst Oudinot was inspecting his troops' dispositions, he was badly wounded in the shoulder and had to be carried off the battlefield, leaving one of his subordinates to defeat the enemy. The Marshal retired to Vilna to recuperate and his wife travelled all the way from France to be by his side.
1812 – Gunshot Wound
Because the Russian campaign had turned so disastrously for the French, beginning their infamous retreat in October, Marshal Oudinot hurried back to command his troops whose task was to build and guard a bridge for Emperor Napoleon to escape his pursuers across. In the Battle of Berezina, a Russian force attacked the river crossing and in its defence Oudinot ordered his cavalry to counterattack. As he waited for his troops to form ranks, he took a musket ball to his side. This wound was so bad he was feared dead. Napoleon's personal surgeon couldn't even find the ball of lead, despite probing 6 inches (15.2cm) into his body.
1814 – Gunshot Wound
Marshal Oudinot's final wound of note occurred during the death-throes of Napoleon's Empire as the Grande Armee struggled to hold off Coalition forces much grander. During the Battle of Arcis-sur-Aube, Napoleon, despite his army punching above their weight, realised the futility of staggering on. He ordered a withdrawal. Oudinot assumed a task it seemed was his alone – being a bastion for his army. Pursuing Coalition artillery pounded his brigades of infantry and at some point Oudinot was struck by a musket round in the chest, throwing him spread-eagled into the ranks of the Legion of Honour.
"Le Bayard de l'armée français"
Marshal Nicholas Oudinot finally retired in 1830 with over 40 years of hard fighting under his belt. Sources state that this grizzled veteran suffered a total 34 injuries. With typical irony, he went on to live to the ripe old age of 80 years old.
Make a one-time donation
Make a monthly donation
Make a yearly donation
Choose an amount
Or enter a custom amount
$
---
Your contribution is appreciated.
Your contribution is appreciated.
Your contribution is appreciated.
Donate
Donate monthly
Donate yearly