Some towns are so closely linked to some of the world's most popular foods and drinks they gave them their name. Here we take a look and find out why these places are such meccas for foodies and connoisseurs.
Cheddar, UK
If you like any cheese at all it will likely be Cheddar cheese; it is the most widely eaten cheese in the world. With a mild taste, inoffensive to even the most trepid palate, it's popular either sprinkled over a dish like your favourite pizza, stuffed into a ham and cheese sandwich or just eaten by itself.
Officially Cheddar cheese is described as 'a relatively hard, off-white, sometimes sharp-tasting, natural cheese made from cow's milk'.
Since the 12th Century the cheese's popularity has grown and now Cheddar cheese has a place on millions of people's dinner tables.
Cheddar is a town of 5000 residents and is nestled at the foot of a stunning gorge on the southern edge of the Mendip Hills in England.
Cheddar Gorge is the town's centrepiece; with its dramatically steep, craggy walls, and a slaloming road running through, it's breathtaking for drivers who cannot resist the urge to take their eyes off the road.
It is the caves of Cheddar Gorge that provided the ideal humidity and steady temperature for maturing the cheese in the past, and they still do. These caves, alongside the nearby Wookey Hole Caves, are now a popular family day out.
As a popular tourist destination Cheddar boasts plenty of bars and restaurants where you can sit outside and gawp at the rock walls around you. Can you still get the finest Cheddar cheese in the world there? Most definitely!
The Cheddar Gorge Cheese Company is family-owned, independent, and has been making award-winning cheeses since 2003. Their Cheddar Cheese is still matured in the caves.
Then there is The Original Cheddar Cheese Company which opened its doors to business all the way back in 1870 and their shop and café are located at the same spot at the mouth of Cheddar Gorge. The shop is now world-famous and remains family-operated today.
Pilsen, Czech Republic
There are a gazillion types and sub-types of beer out there and none more popular than Pale Lager, otherwise called Pilsner. Described as a 'very pale-to-golden-coloured with a well-attenuated body and a varying degree of noble hop bitterness' …whatever that all means.
It does go down a treat on a hot Summer's day, I know that much, and millions agree.
Pilsner came about in the early 19th Century as a result of a fermenting process imported into Bohemia from neighbouring Bavaria and that produced a beer with a longer shelf life. It's popularity took off from there. It is no surprise that the people of the modern Czech Republic state, of which Pilsen is its fourth largest city, love the drink so much they only half-jokingly refer to it as a soft drink, or 'liquid bread'.
Pilsen is a fine city of 175,000 residents, and it packs quite a punch to entice visitors with.
Its spacious town square is rimmed with townhouses showcasing grand Austro-Hungarian architecture and in its centre sits St Bartholomew's Cathedral which offers a breathtaking vista from its church tower – the tallest in the country.
With its history, many parks, and landmarks like the iconic Prazdroj Brewery Gate it is no surprise that Pilsen was European Capital of Culture, 2015.
Its real draw is as the capital for beer lovers. One of the world's biggest pilsner brands, Pilsner Urquell, still has its brewery in the City and is a mecca for lager lovers the world over. Visitors to the brewery can enjoy guided tours where they will learn about the history of Pilsner's famous beer and, of course, enjoy a glass or three; nowhere does it get any fresher than straight from the company's beer cellars.
And the highlight of the city calendar is the Pilsner Fest. Whilst in the neighbouring German city of Munich they have their world-renowned Octoberfest, also in October Pilsen hosts a two day festival of beer of its own which draws bigger and bigger crowds every year.
Cognac, France
Cognac is a unique brandy produced by twice distilling white wines. So while it does indeed taste like brandy, it reflects the exclusive flavour sensations not found in other brandies.
Unlike Cheddar cheese, what makes it so sought after is that it must be made according to strictly defined regulations; namely, it must be made in or around the town for which it is named. As a result the Cognac commune, in the Charente department in southwestern France, is the centre of the universe for lovers of the iconic brandy.
So what of Cognac the town? It's inhabited by 18,000 and is absolutely dripping with fine historical architecture. It has its own medieval quarter of unusual buildings, built between the 15th and 18th centuries, and situated on narrow cobbled streets and which contain sculptures of the salamander, the symbol of King François I, as well as gargoyles and richly decorated façades.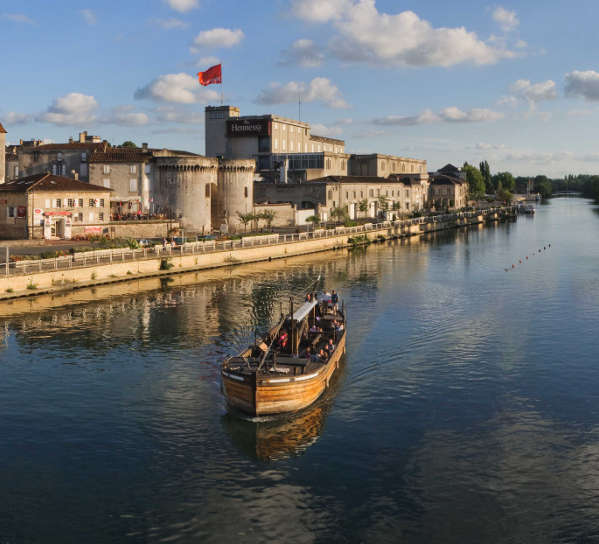 Over 200 producers of Cognac ply their trade and five of the biggest of them have their 'Grande Marque' Cognac houses in the town centre. They are Hennessy, Martell, Otard, Camus and Remy Martin, and each welcomes visitors with open arms.
Surely there is no more authentic place to enjoy a glass to sip on than in Bar Luciole on the banks of the Charente River. With more than 130 varieties of Cognac, whatever you order the team can provide a personal introduction to each and every one of them.
Every year in the last weekend of July the Cognac Festival is held, and is a very popular event. Fishermen's huts are converted for the occasion and visitors can sit around tables and savour delicious cognac cocktails, and each night revellers can let their hair down dancing and foot-tapping at two concerts.
Camembert, France
Camembert is a moist, soft, creamy, surface-ripened cow's milk cheese. It was first made in the late 18th century at Camembert, Normandy, in northern France. It's a divisive cheese due to its strong taste. However, for those who enjoy stronger varieties of cheese Camembert is delicious and quite healthy too. So nutritious, in fact, the cheese was famously issued to French troops during World War I, becoming firmly fixed in French popular culture as a result.
It is now internationally known, and many local varieties are made around the world, yet the original Camembert, named Camembert de Normandie, can only be made from raw, unpasteurized milk from Normandes cows.
Meandering along quaint country lanes around Camembert, in Normandy, northern France you'll be struck by the verdant hedgerows and the patchwork of pastures where cows sedately ruminate upon their lot under the glorious French sunshine.
It's a lovely corner of the world, even if it sits off France's radar as a top tourist hotspot. Yet, the village of Camembert is somewhat petite, but any fromage fan need not stray far from the village to find all the top sights (and smells) related to this much loved cheese.
At the Maison du Camembert you can learn all the history and secrets of camembert cheese production, then gorge on some gooey goodness inside the round, cream-coloured building next-door which resembles a round of camembert.
You can also visit the very home of the woman who invented Camembert, Madame Harel was inspired to create Camembert by a passing Brie cheese maker during the French Revolution in the beautiful, imposing 17th Century Beaumoncel Manor. Do check it out!
And there is no better place to stock up on Camembert than at the last remaining cheese farm located in the village – the Durand Cheesemonger at the Héronnière Farm.
The nearby Vimoutiers village is a great base to discover the area from.
Frankfurt, Germany
Not to be confused with similar sticks of meat like the 'Vienna Sausage' the Frankfurter Wurchen aka 'Frankfurter' or 'Hot Dog' to most of us, is a cheap, tasty and versatile dish best eaten with little slices of gherkin or roasted onions, or even sauerkraut then topped with mustard or ketchup.
With protected geographical status since 1860, the authentic Frankfurter is a thin parboiled sausage made of pure pork in a casing of sheep's intestine, and its taste is teased out by a special method of low-temperature smoking.
Yet, where did it get its name from? Frankfurt in southern Germany is the nation's 5th largest metropolis and one of Europe's major financial hubs. A city where the River Main flows past tree-lined embankments, and tourists and city workers relax on their lunch breaks to the backdrop of sleek skyscrapers clustering the city skyline.
Frankfurter fans should flock to the Kleinmarkthalle. A cultural melting pot; a culinary Aladdin's Cave; this indoor market place has over 60 vendors and its Frankfurters are the best on the planet.
Frankfurt is home to a number of other Teutonic, culinary delights than just frankfurters, this includes its own 'Apfelwein' apple wine and pastries. Visitors can delight in Frankfurt's drinks, foods and vivacious vibes at its many festivals, such as the Main Festival and Fressgass Fest.
Make a one-time donation
Make a monthly donation
Make a yearly donation
Choose an amount
Or enter a custom amount
$
---
Your contribution is appreciated.
Your contribution is appreciated.
Your contribution is appreciated.
Donate
Donate monthly
Donate yearly