ARL Football Success Ranking System
The ARL Football Success Ranking System for men's European club football establishes for certain the most successful clubs in each nation. It is a system of scoring points to clubs based on what trophies and how many have been won. Different trophies score different points and are based on a 'glory' criteria. Only 'competitive football' trophies are considered.
Germany and its Bundesliga
Germany has a massive football culture and its success at national team level reflects this. The Bundesliga has a lower profile though. It has the highest match attendances in Europe but was only founded as late as 1962, with earlier German National Ghampionships decided through a playoff system similar to N. America's MLS. Germany's most successful club has a huge global profile and German clubs have played a solid part in UEFA's history – seven clubs hold at least one major UEFA trophy in their cabinets. German clubs have scored a decent 140 Success Points in international competitions.
It's one of the world's strongest leagues, capable of attracting global superstars and with tv rights deals in total (shared between Bundesligas 1 and 2) worth well over a billion Euros for 2019.
(Note: Pre Bundesliga German Football Championships (GFCs) are counted as Titles even though they were not 'round robin' formats.)
Scroll down to the bottom to view the table showing Germany's 11 most successful clubs!
---
5 Most Successful Clubs in Germany
5. Hamburger SV
Points: 94.5
First Trophy Won: German Football Championship (GFC), 1923
Latest Trophy Won: DFB Ligapokal, 2003
Most Successful Manager: Ernst Happel – 31 success points (1981-1987)
Most Successful Decade: 1980s – 31 success points
A club which traces its origins as far back as 1887, Hamburger are founding members of the German football league, and years ending in '3' have been particularly fruitful ones for them.
Die Rothosen's (The Red Shorts) first chance of glory ended in farce in 1922. In their championship final game against Nurnberg, the teams were stuck in a deadlock with the scores tied. This was the era before the footballing gods had a contingency measure for such a thing. After two legs of roughly five hours kicking lumps out of each other, Nurnberg conceded due to injuries. Hamburger were awarded the German crown by default. But they were asked to refuse it in the name of good sportsmanship, and did so, albeit reluctantly. They won the German Championship the following year, however, and again before the emergence of Third Reich.
Hamburger won their first German Pokal (Cup) in 1963 and the first ever league cup in 1973. In 1977 the club won the UEFA Cup Winners Cup (CWC) by beating Anderlecht in the final. Ernst Happel then took charge and led Hamburger to win the Bundesliga in 1982, followed by another Title the year after. They achieved these feats with players such as 'the monster' Horst Hrubesch, and Felix Magath, who scored the winning goal against Juventus to to clinch the European Cup in 1983.
The club has since struggled and have won just one major honour since hoisting another German Cup in 1987.
4. FC Schalke 04
Points: 99
Earliest Trophy Won: GFC, 1934
Latest Trophy Won: DFB Pokal, 2011
Most Successful Manager: Hans Schmidt – 32 success points (1933-1938)
Most Successful Decade: 1930s – 41 success points
A club that has its foundations pitted in the mining heartlands of western Germany, The Miners had their greatest period in the heady run-up to world war. From 1924, Schalk 04 became a dominant local side, utilising a style of play that used short, sharp, man-to-man passing to move the ball, dubbed the Schalker Kreisel ('Spinning Top'). They first applied a stranglehold upon their regional league before earning a place in the German National Championship (GNC).
Under the stewardship of Hans Schmidt – Nurnberg legend from his playing days – and a nucleus of players who would become German legends such as Fritz Szepan, Ernst Kuzorra and Herbert Burdenski, Schalk 04 would go on to win their first national championship in 1934, then five more between 1935 – 1942, including the first league/cup 'Double' in 1937.
After being crowned again in 1958, 'The Royal Blues struggled in the Bundesliga. Schalk would remain a prolific club, however, and won more silverware around the turn of the century. Dutch coach Huub Stevens installed a rigid system of on-pitch discipline called "Die Null muß stehen" ('It has to read nil') and with this, Schalk beat Inter Milan to seize the 1997 UEFA Cup, then four domestic cups between 2000 and 2011.
3. FC Nurnberg
Points: 101
Earliest Trophy Won: German Football Championship (GFC), 1920
Latest Trophy Won: DFB Pokal, 2007
Most Successful Manager: Izidor Kürschner – 18 success points (1920–1921)
Most Successful Decade: 1920s – 45 success points
European football has a number of 'dormant giants'; clubs which were once the top teams to beat but have won little in decades since. In Germany, it is Nurnberg FC.
Founded in 1900, by 1909 it won its first regional championship and by 1920 won its first national championship. By this point, it had become known simply as Der Club on account of its dominance of German football – from July 1918 to February 1922, the team went unbeaten in 104 official matches. The '20s were its most successful decade when it was crowned German Champions 5 times, gaining 45 points.
After that decade, their glory years would fade due to a more fast paced game that evolved. Their more slow and deliberate style, which allowed them to shut out their opponents, became outdated. They seized the first of four German Cups in 1935 and were competitive in the 1960s. Manager Max Merkel won Nurnberg a ninth national title – now the Bundesliga – in 1968, then made the disastrous decision to replace his aging squad of champion veterans with a dozen rookies. Nurnburg became the first club to be relegated from the Bundesliga as the reigning champions the season after.
2. Borussia Dortmund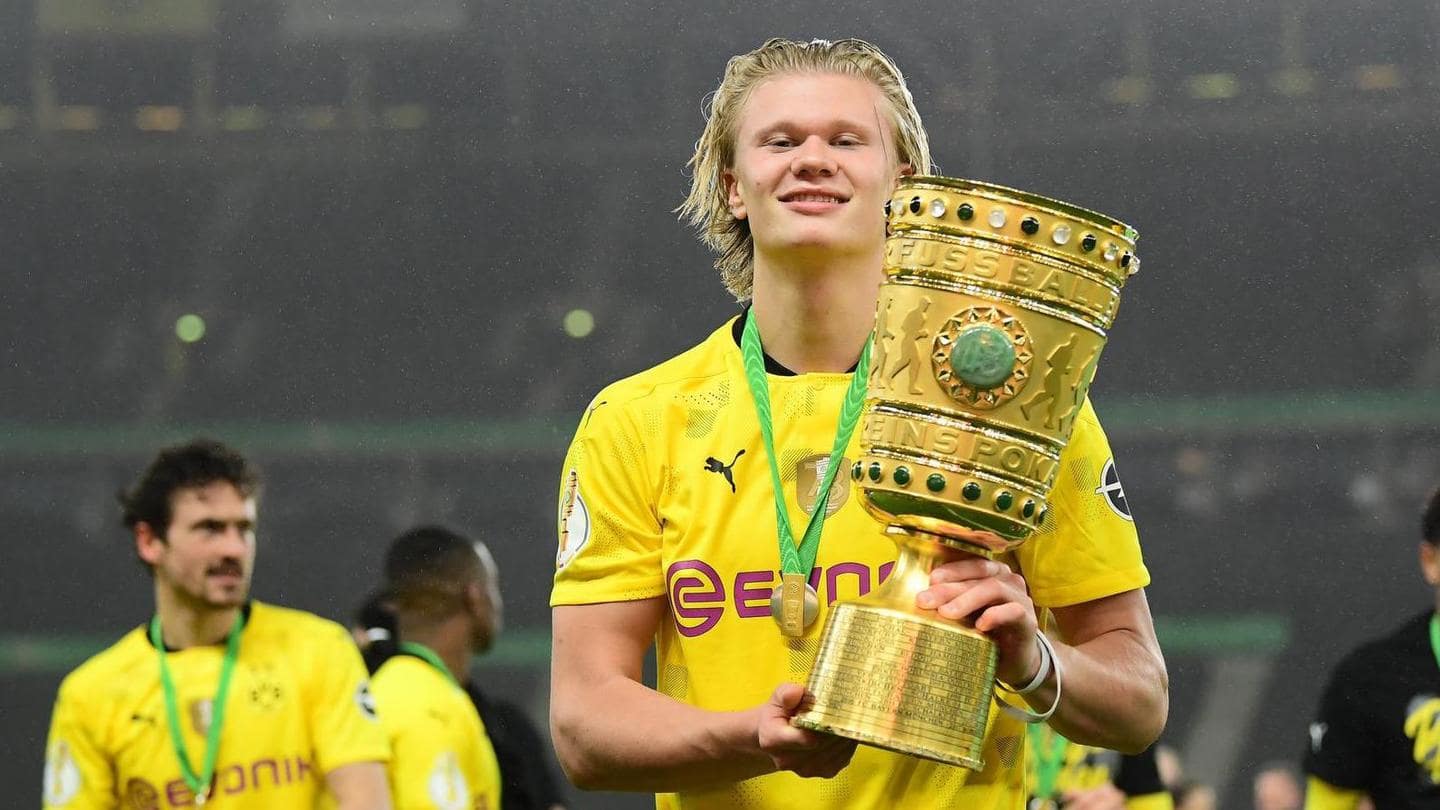 Points: 120.5
Earliest Trophy won: GFC, 1956
Latest Trophy won: DFB Pokal, 2021
Most Successful Manager: Ottmar Hitzfeld, 28 success points (1991 -1998)
Although Die Borussen (The Borussians) have a big reputation in Germany and Europe, it only has a modest number of Success Points and this is partly explained by the fact that, being founded as early as 1909 Dortmund won nothing major until their first crowning as German champions in 1956. They then won the Title the season after to make it two in a row. Borussia managed to win Titles consecutively in the '90s and early 2010s as well.
It was the first German club to win a UEFA trophy – a UEFA Cup Winner's Cup in 1966. Borussia also became one of Germany's most prolific clubs after German reunification at the start of the 1990s, regarded as its glory years. In addition to their two Titles in that period, Dortmund won a Champion's League (CL).
Despite financial difficulties it's the only club that comes close to competing with Germany's superstar club.
1. FC Bayern Munich
Points: 500.5
Earliest Trophy won: GFC, 1932
Latest Trophy won: Bundesliga, 2022
Most Successful Manager: Udo Lattek, 86 success points (1970 – 75 and 1983 – 87)
Most Successful Decade: 2010s – 128 success points
Bayern Munich is a true member of European royalty, having reigned supreme over German football since the 1970s.
These blue bloods have amassed a stratospheric 500 points and achieved feats such as winning the European Cup three times in a row from 1974 – 76; winning the Bundesliga three times in a row from 1972 – 74, 1985 – 87 and 1999 – 2001; and as of 2022, it has been the Bundesliga Champions for a decade. Bayern have won over half of all Bundesliga Championships.

For the 2020 season, Der FBC (The FBC) managed an unprecedented total sweep of every trophy for the season; scooping all six trophies up for grabs and 28 success points! This club is a global superstar and will remain Germany's most successful club for decades to come.
Success Points Table
| | |
| --- | --- |
| Competition Key | Points |
| SC: Domestic 'Super Cup' (DFL Super Cup) | 1 |
| UEFA SC: UEFA Super Cup | 2 |
| FIFA CWC: Intercontinental Cup / FIFA Club World Cup | 3 |
| LC: League Cup (DFL Ligapokal) | 4 |
| UEFA ECL: UEFA Europa Conference League | 4 |
| AC: Association Cup (DFB Pokal) | 5 |
| UEFA EL: UEFA Cup / Europa League | 6 |
| UEFA CWC: UEFA Cup Winners Cup | 6.5 |
| UEFA CL: UEFA European Cup / Champions League | 8 |
| T: Top Tier League Title (German Football Championship / Bundesliga) | 9 |
11 Most Successful Clubs in Germany
Position
Club
Point Subtotals
Success Point Total
1
FC Bayern Munich
SC: 9 x 1 = 9
UEFA SC: 2 x 2 = 4
FIFA CWC: 4 x 3 = 12
LC: 6 x 4 = 24
AC: 20 x 5 = 100
EL: 1 x 6 = 6
UEFA CWC: 1 x 6.5 = 6.5
CL: 6 x 8 = 48
T: 32 x 9 = 288
+3 (Trebles)
500.5
2
Borussia Dortmund
SC: 6 x 1 = 6
FIFA CWC: 1 x 3 = 3
AC: 5 x 5 = 25
UEFA CWC: 1 x 6.5 = 6.5
CL: 1 x 8 = 8
T: 8 x 9 = 72
120.5
3
FC Nurnberg
AC: 4 x 5 = 20
T: 9 x 9 = 81
101
4
FC Schalke 04
SC: 1 x 1 = 1
LC: 1 x 4 = 4
AC: 5 x 5 = 25
EL: 1 x 6 = 6
T: 7 x 9 = 63
99
5
Hamburger SV
SC: 3 x 1 = 3
LC: 2 x 4 = 8
AC: 3 x 5 = 15
UEFA CWC: 1 x 6.5 = 6.5
CL: 1 x 8 = 8
T: 6 x 9 = 54
94.5
6
SV Werder Bremen
SC: 2 x 1 = 2
LC: 1 x 4 = 4
AC: 6 x 5 = 30
UEFA CWC: 1 x 6.5 = 6.5
T: 4 x 9 = 36
78.5
7
Borussia Monchengladbach
SC: 1 x 1 = 1
AC: 3 x 5 = 15
EL: 2 x 6 = 12
T: 5 x 9 = 45
73
8
VfB Stuttgart
SC: 1 x 1 = 1
AC: 3 x 5 = 15
T: 5 x 9 = 45
61
=9
FC Kaiserslautern
SC: 1 x 1 = 1
AC: 2 x 5 = 10
T: 4 x 9 = 36
47
=9
FC Koln
AC: 4 x 5 = 20
T: 3 x 9 = 27
47
11
Eintracht Frankfurt
AC: 5 x 5 = 25
EL: 2 x 6 = 12
T: 1 x 9 = 9
46