The world's No.1 is as heavy as a car. Presenting the biggest coins in the world.
When the Royal Mint minted a massive £10,000 coin in 2021, it got me wondering what the biggest coins in the world were. So, I reached into my bag of tricks and I came up with this; the seven most massive, very valuable coins in the world.
Note, I am only including circular metal coins with a denomination.
This may sound a little obvious yet there is a 'massive coin' from Sweden minted in 1644 which I would call a copper slab with hallmarks imprinted on it, and there are Rai Stones on the Micronesian Islands up to 3.6m (12ft) in diameter which served as a form of money, and are therefore termed 'coins' by some, but not moi.
Without further ado, let's take a look at the seven biggest coins (by diameter), starting from seventh:
7: Queen's Beasts Coin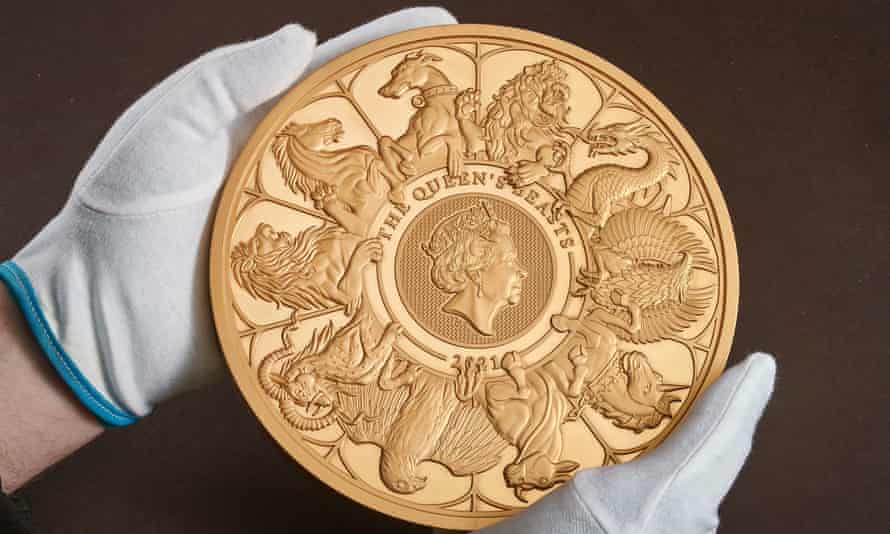 The Queen's Beasts Coin was minted in 2021 by the UK's Royal Mint (RM) and is an outstanding piece of craftsmanship.
This gold coin is 20cm (7.9in) in diameter and weighs 10kg (22lbs). Unsurprisingly, it is the largest coin minted in the RM's 1,100-year history.
It is meant as the final piece of a larger collection on the theme of heraldic beasts.
When Queen Elizabeth II was crowned in 1953, 10 stone statues lined the Queen's route to Westminster, including; a lion, griffin, falcon, bull, yale, greyhound, dragon, unicorn and a horse.
The RM subsequently made these beasts the theme of said coin collection.
With one side showing the side profile of Queen Elizabeth II's head, the other side of the coin has another side-head profile beautifully surrounded by engravings of the 10 beasts in stunning detail.
This whopper set a new standard in coin minting. It took 400 hours to craft. They spent four days alone polishing it.
It is a £10,000 denomination coin, yet its real value is somewhere not far below the million-pound mark, so don't forget which pocket you left it in.
6: 1000-Mohur Jahangir Coin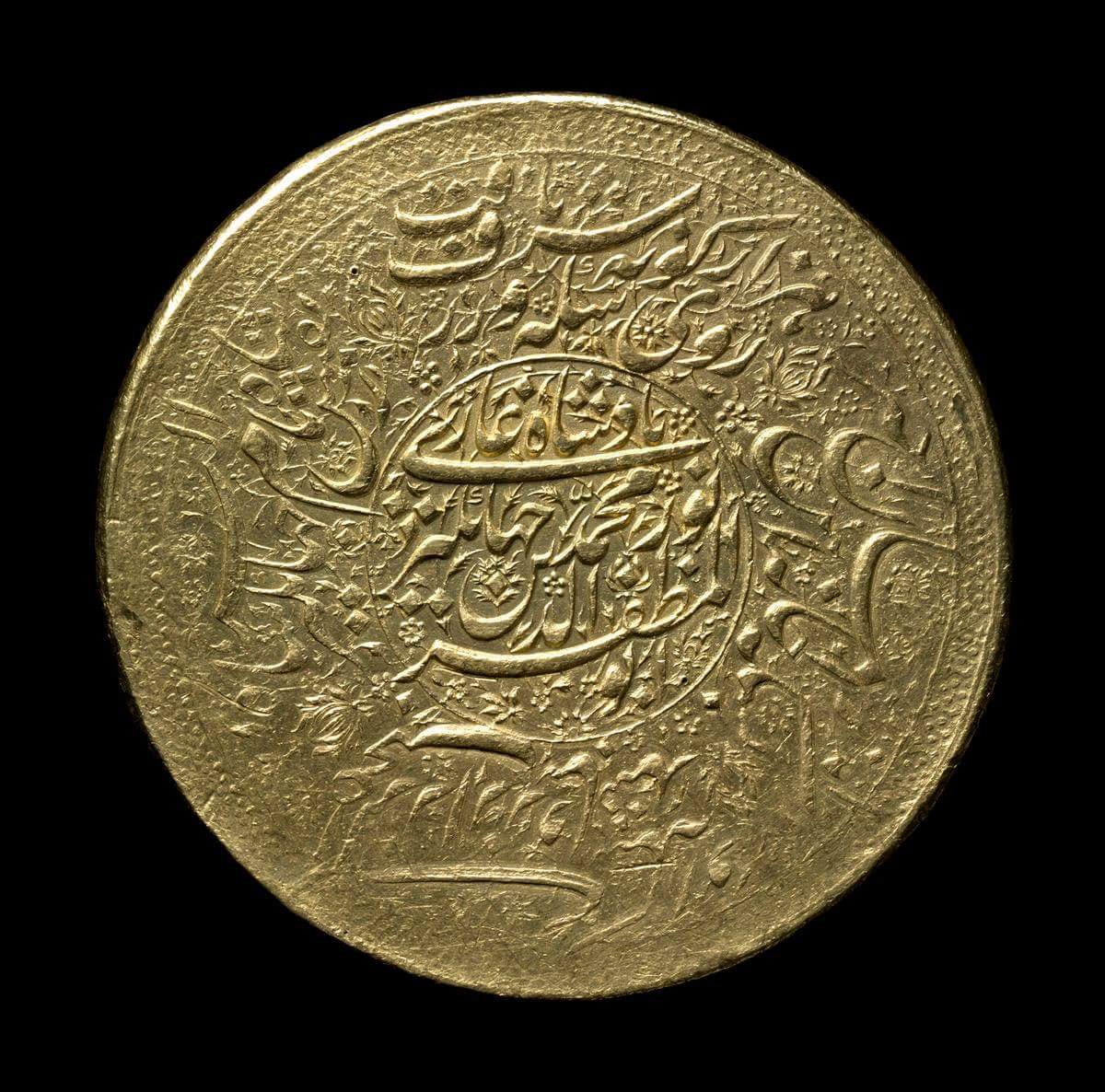 A number of historical records tell of giant coins being forged by ancient empires.
Coins said to weigh over four kilos were minted in the Abbasid Empire, for example, and a very hefty coin was gifted by a Mughal Emperor to his court jester, but one that he bore a hole through the middle for his jester to slip his head through and bear it on his shoulders.
It was heavy enough for this poor-not-poor jester to be quite helpless and the man even had the nerve to complain out loud. That's gratitude! Pffft.
None of these coins survived history, except one.
The fourth Mughal Emperor Jahangir minted the 1000-mohur Jahangir gold coin in 1639 weighing in at just under 12kg (26.5lbs) and with a 20.3cm (8in) diameter.
The inscription on the coin is in Persian. In the centre is the emperor's name and title and surrounding the circular core are two couplets meticulously set on the coin with all the rules of calligraphy faithfully observed.
Considering it was made without modern minting technology, it is a fantastic piece of craftsmanship.
It is owned by Mukarram Jah, the Nizam of Hyderabad and was valued at 10 million US dollars in 1987, so who knows what its value is now.
5: Vienna Philharmonic Coin
The 15 Vienna Philharmonic Orchestra coins were made to mark the 15th anniversary of the Vienna Philharmonic bullion coin.
They were minted in 2004 by the Austrian Mint. They each have a diameter of 37cm (14.6in), 2cm (.8in) thickness, and are 31kg (68.3lbs) of 24-carat gold.
Dubbed 'Big Phil', these priceless discs are inscribed with the image of the Vienna Philharmonic Orchestra's famous hall on one side and instruments on the other, plus the coins' 100,000 Euro face-value. Their true value was put at 1.1 million Euros each in 2014.
4: Big Maple Leaf Coin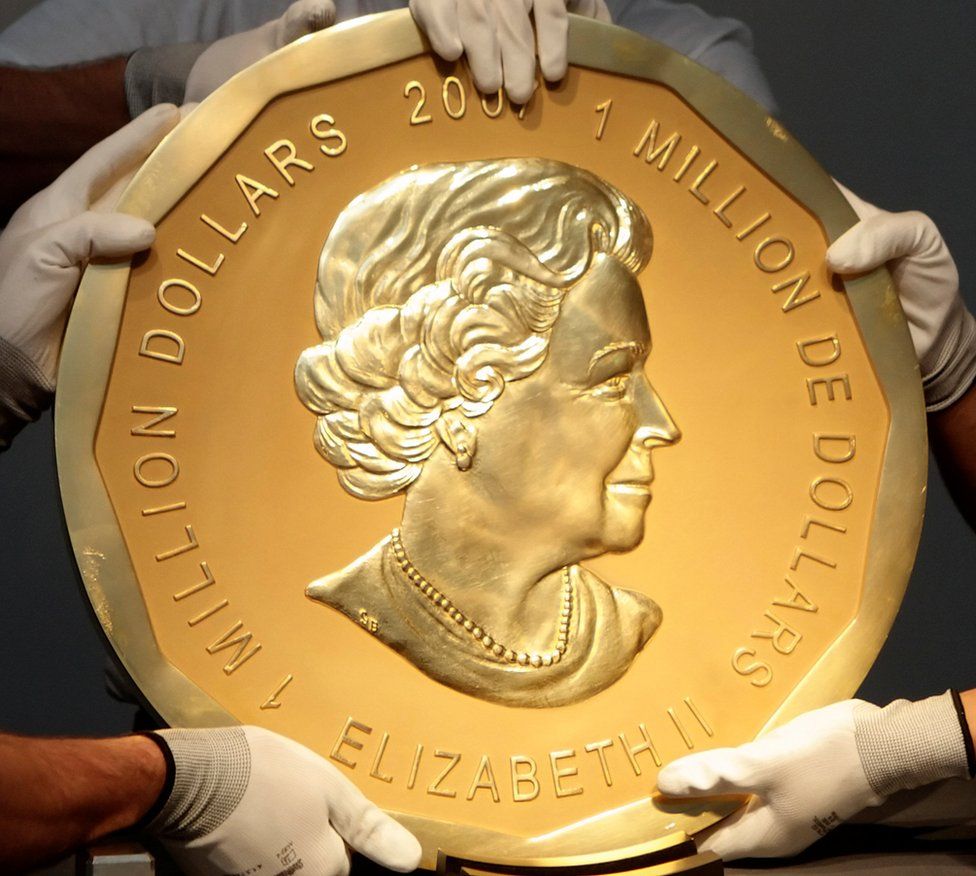 The Big Maple Leaf Coin hails from Canada, and isn't a unique piece — six were forged in all. Just 5 remain after one was whisked away in 2017, however.
A gang of thieves made off with one of the coins on loan to the Bode Museum in Berlin, Germany. Although the cops did track down the thieves eventually, not so the coin; it is believed to have been melted down for its gold.
Minted by the Royal Canadian Mint in 2007. These giant doubloons are 50cm (19.7in) in diameter, 2.8cm (1.1in) thick and weigh a back-breaking 100kg (220lbs). They are made from 99% pure gold.
As a member of the British Commonwealth, these Canadian giants have the customary side profile of Queen Elizabeth II on one side and three elegantly stylised maple leaves on the other.
Like the 1 Tonne Gold Kangaroo Coin, (see below) it is a million-dollar denomination, yet it was valued at four million US dollars in 2007.
3: '100 Years of The Koruna' Coin
This gargantuan gold coin was commissioned to celebrate the Czech Republic's currency reaching its 100 year anniversary.

The old Czechoslovak state was founded just after the break-up of the Austro-Hungarian Empire in 1918. This fledgling state launched its shiny new currency called the Czech Crown (Koruna) a year later. 100 years on and a bumper era of economic success with this currency to show for it, the Czech Mint chose to splurge on a chunky, gold commemorative coin.
The '100 Years of The Koruna' Coin is 53.5cm (21in) in diameter and 4.7cm (1.9in) thick. And with a weight of 130kg (287lbs) they should include a forklift in the price for any prospective buyer.
This mesmeric piece depicts the birth of the Czechoslovak Koruna among ears of wheat on one side and, in homage to the famed One-Crown coin that first went into circulation in 1922, the Czech lion is shown onto its reverse side.
With a 100 million-crown denomination, this equalled a $4.6 million valuation in 2019.
2: Ivory Coast Silver Elephant Coin
In 2nd place is the one entry in this list not forged from gold, yet it's still an impressive piece as the largest silver coin on Earth.
Issued by The Ivory Coast in Africa but manufactured by Geiger Edelmetalle, this set of 15 coins was minted in 2016 to champion the preservation of the continent's iconic megafauna such as the African Elephant.
Although every coin measures 65cm (26in) and 54kg (120lb) in diameter and weight respectively, the 99% pure silver coins are handcrafted, meaning each is unique from the others in the set.
The front of each coin features the African Bush Elephant standing tall, along with the French phrase "Le Monde Animal En Peril," translating to 'The Animal World In Peril.' The reverse side displays the Ivory Coast coat of arms and gives the nominal value of 1,000,000 Francs (although their true values are many times higher.)

A proportion of the profits from each coin were allocated to conservation projects that protect endangered species in the Ivory Coast republic.
1: One Tonne Gold Kangaroo Coin
The Perth Mint in Australia produced this absolutely giant wheel of gold; the One Tonne Gold Kangaroo Coin – The world's largest coin!
Minted in 2012, it has a diameter of 80cm (31.5in), is 12cm (4.7in) deep and is 1000kg (2,200lbs) of pure gold.
With a face-value of a million dollars, this giant coin was actually valued at 53 million dollars when it was unveiled.
It was made to be the showpiece of the Perth Mint 'Australian Kangaroo Gold Bullion Coin Series' and is a triumph of coin minting.
On one side is Queen Elizabeth II's side profile with 'ELIZABETH II', 'AUSTRALIA' and '1 MILLION DOLLARS' inscribed around the edge, and the other side features a bounding red kangaroo surrounded by stylised rays of sunlight and bordered by the inscription 'AUSTRALIAN KANGAROO', '1 TONNE', '9999 GOLD' and '2012'.
It is legal tender, but please don't try taking it down to your local corner shop to buy a bottle of milk; they won't thank you for the cash in change they'll need. Besides… it weighs an absolute tonne! (grabs coat)
Make a one-time donation
Make a monthly donation
Make a yearly donation
Choose an amount
Or enter a custom amount
$
---
Your contribution is appreciated.
Your contribution is appreciated.
Your contribution is appreciated.
Donate
Donate monthly
Donate yearly