Read about how the Wuppertal Schwebebahn came to be and its 120 years of service
This is the story of the oldest suspension railway in the world. But its origins go back much further than when it first opened for business at the turn of the 20th Century.
Railway from The Future
Film footage (below) from its first year in operation will have steampunk aficionados salivating; heavily dressed pedestrians and horse-drawn carriages throng wide avenues that are lined with trees and classical townhouses.
An elegant iron carriage glides serenely overhead along a suspended rail held together by a framework of struts elevated, in turn, by curved pillars that straddle the road.
The carriage continues over Wuppertal's narrow river as the sun gleams, passing by pedestrians, bridges and grand facades through this seemingly illustrious German city.
An urban setting from the 19th Century juxtaposed with an engineering portent from the future.
Bold Blueprints
It was in 1824 when a British Engineer named Henry Robinson Palmer found a very receptive audience in Germany to designs of a horse-drawn elevated monorail; an outlandish mode of transport in its own right.
This was a time when the Wupper valley was blossoming into a rich industrial heartland, supplying the flourishing 2nd Reich with coal and steel — two vital ingredients for any global power.
Friedrich Harkort, a Prussian industrial entrepreneur and politician, loved the idea. He saw big advantages in transporting coal to his own steel mill in the area and built a demonstration segment of the Palmer system. The project was ultimately shelved, however, because of objections from more myopic parties.
As the 19th Century progressed and the fledgeling German nation began to flex its muscles, the Wupper valley continued to burgeon and flourish into an industrial powerhouse as even more industries emerged, such as textiles and Friedrich Bayer's chemical company
The towns of Barmen and Elberfeld developed until they merged to become 'Wupper-town'. As it prospered, its streets got ever more crowded. By 1879 Elberfeld Zoo was built, and the roads leading to it would get jammed with horse-drawn carriages on the weekends. In 1887 a proposal for an elevated train re-emerged.
Carl Eugene Langen, as one of those brilliant brains who could excel at all sorts of ventures he threw himself into, was a successful inventor, engineer and entrepreneur.
He helped to design the advanced flying piston engine for which he received the gold medal at the Paris World Exhibition of 1867, then founded the Pfeifer & Langen sugar manufacturer that still exists to this day.
It was in the 1890s that Langen started yet another venture in developing rail vehicles through the van der Zypen & Charlier wagon factory, and his suspension railway project came into being.
Before Wuppertal's civic leaders were approached Langen touted his railway to other cities such as Cologne, and even Berlin, but they rejected his bold blueprints.
However, Wuppertal's citizens had become very rich and they were ambitious about maximising their up-and-coming city's potential.
Wuppertal being a uniquely lineal city, owing to the steep hillsides along the river Wupper, was suited to a single line railway project, so they accepted Langen's proposal.
Its municipal leaders also made the inspired decision to build the railway over the river to eschew the costs of buying up private land to build it over.
Construction of the space-age marvel began in 1898. As it took shape the city merchants were proud that their 'Silicone Valley' was at the forefront of technological innovation and invited the German Kaiser to take part in a test run.
To much fanfare, Kaiser Wilhelm II and his wife took the Schwebebahn for a test run and commented in the typically staid tones of 19th Century royalty that it was 'both practical and pleasant'.
The city wanted the Kaiser to announce his seal of approval for the whole German Empire to hear, and they got it; Wuppertal was now on the world map.
A Big Hit from Day One
The 8.3 mile (13.3 kilometre) long and 12m (39ft) high railway entered service in 1901 whilst England's Queen Victoria still sat on the throne and was a hit from day one.
The project used around 19,200 tonnes of steel to construct, and it cost 16 million gold marks.
It is a measure of achievement that Langen also opened the Dresden Suspension Railway, a 274m funicular version the same year and both railways have stood the test of time.
Train Troubles
It hasn't always been smooth going for the Schwebebahn, however.
As an industrial center Wuppertal inevitably suffered extensive bomb damage during World War II, yet the railway was brought back into service just one year after the war's end.
In 1950 some Althoff Circus manager had the not-so-bright idea to organize a publicity stunt by putting an infant elephant, later named Tuffi (meaning 'waterdive' in Italian) on a train.
But riding the train didn't turn out to be to Tuffi's liking.
Jostled by the accompanying press in the crowded carriage, the elephant lost its cool and busted through the side and out into the river below.
Fortunately, she was fine, suffering only a bruised rump. Both operator and circus director were fined after the incident, however.
In April 1999 the railway suffered its first, and to date, only fatal accident when workers failed to remove a metal claw on the track after completing maintenance work. It derailed a carriage and it plunged into the river, killing five passengers and injuring 47.
Wuppertal's Suspension Train in the Modern Era
Now, the Schwebebahn still serves the city of over 300,000 and transported 25 million passengers in 2008.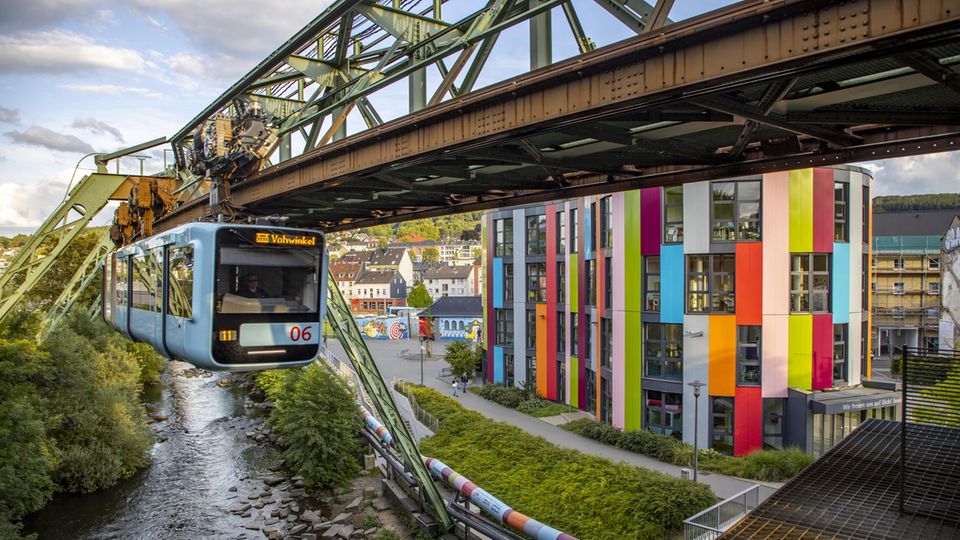 It continues to awe visitors and Wuppertalians alike with its architectural style and practicality.
It is truly Wuppertal's 'Iron Backbone'.
Make a one-time donation
Make a monthly donation
Make a yearly donation
Choose an amount
Or enter a custom amount
$
---
Your contribution is appreciated.
Your contribution is appreciated.
Your contribution is appreciated.
Donate
Donate monthly
Donate yearly